FACE TO FACE Graduate Students and Teachers Exchange Conference, The First Hospital of Jilin University
---
On November 30th, 2021, the first FACE TO FACE Graduate Students and Teachers Exchange Conference was held in the No. 15 meeting room of Building 8 of the First Hospital of Jilin University. Professors Yang Zheng, Sujun Gao, Zhonggao Xu, Hongyu Jiang, and Nan Zhang were invited to attend the meeting as graduate student supervisors. Ping Zhang, deputy director of the Student Affairs Office, and graduate students from Class 2, 2021 participated in the exchange meeting, which was presided over by Yu Yan, presidium member of the Student Union.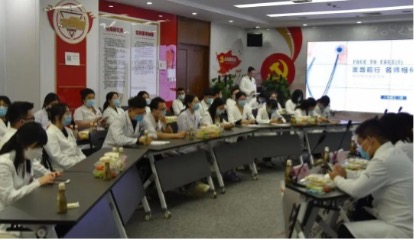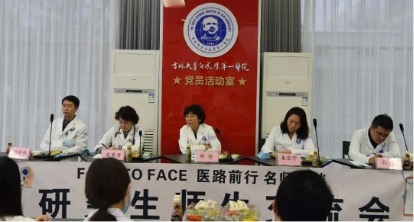 At the meeting, Ping Zhang explained the original intention, form, and expected goals of the exchange meeting. She said that the graduate teacher-student exchange meeting was held in order to give full play to the key role of faculty education of the First Hospital of Jilin University. Under the guidance of supervisors, the role transformation of students could be promoted, so as to better shape the spirit and character of doctors, broaden their horizons and expand their knowledge. In this first exchange meeting, five supervisors from Class 2, 2021, shared their formative experience in the medical field with students in the form of discussion, and instructed students on how to make career plans. She hopes that guided by these five supervisors, students can get more assistance and embark on a clearer growth path.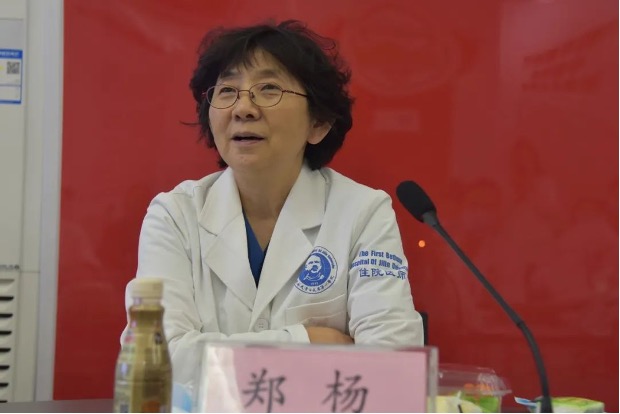 Professor Yang Zheng first put forward suggestions on the clinical learning mode of students based on her own medical experience. She proposed a spiraling learning model from theory to practice and back to theory, and gave instructions on issues related to essay writing. Through her own experience of assisting Hubei Province, she gave students an in-depth understanding of the duties and missions that doctors should have. Comprehensively, she contributed a wonderful and impressive class to students.
Professor Zhonggao Xu had an in-depth discussion with students on how to overcome language difficulties and successfully learn clinical medicine by sharing his experience in the medical career. He encouraged students to enhance fundamental clinical skills, and instructed them how to focus on work, face up to evaluation and rush forward fearlessly.

Professor Sujun Gao described the pressure that students may suffer right after they began the clinical practice through actual cases of the hematology department. She expounded her views on the establishment and maintenance of the doctor-patient relationship and gave constructive suggestions on the prerequisite to become doctors.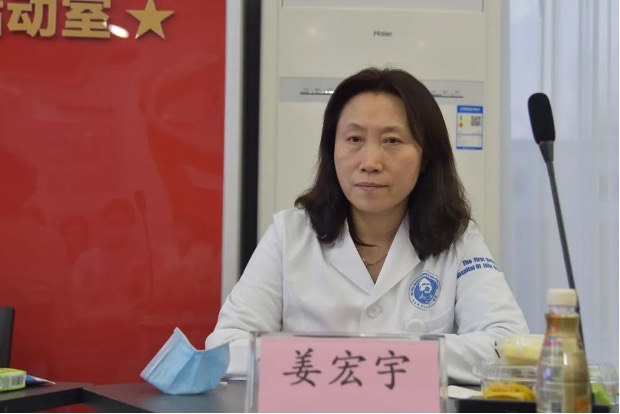 Professor Hongyu Jiang narrated a tortuous and twisting experience of her own growth and discussed the importance of perseverance and motivation to success in the face of setbacks and loneliness. She also encouraged students to improve their anti-pressure ability and actively cope with the challenges of life.
Professor Nan Zhang expounded his views on the current employment of doctors and the growth expectation of graduate students. He encouraged students to learn various clinical skills more diligently, take advantage of academic resources more wisely, and devote themselves to scientific research more actively, so as to take a good first step on the road of clinical research. Together with Professor Zheng Yang, he taught the students the responsibility and glory of doctors through their experience of assisting Hubei Province.
In the question-and-answer session, students had a profound discussion with teachers about their future study and growth. They expressed that the medical experience and growth suggestions shared by the supervisors were cordial and precious. The supervisors' sincere guidance benefited them a lot especially when they were just entering clinical practice, and they treasured the opportunity to communicate with the supervisors face to face.
The five supervisors presented clinical learning books to the students in the meeting, and the student representatives also expressed their gratefulness to supervisors' earnest guidance by giving gifts with their compliments.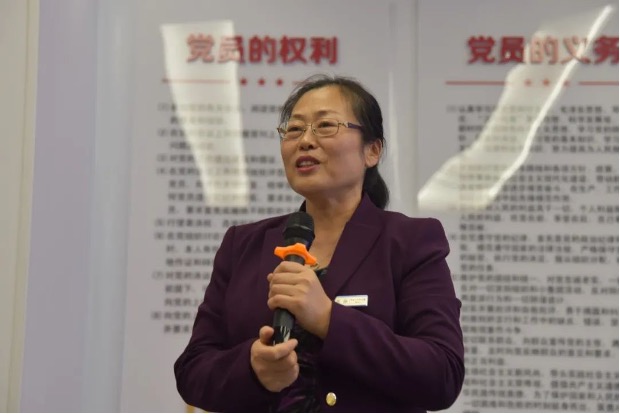 At last, Ping Zhang concluded that the first FACE TO FACE Graduate Students and Teachers Exchange Conference achieved remarkable results with the strong support of supervisors, which expanded the vision and knowledge of the students who just started their careers. As the first zero-distance communication meeting between graduate students and teachers, FACE TO FACE provided a more friendly and effective communication platform for students and teachers. It is a positive exploration of graduate student management work to a warmer and closer exchange mode.
Source: Student Affairs Office
Editor: Publicity and Culture Office
Translator: Foreign Affairs Management Office, Department of Scientific Research
---
Related articles
2021 Badminton Competition of The First Hospital of Jilin University
FACE TO FACE Graduate Students and Teachers Exchange Conference, The First Hospital of Jilin University
The First Hospital of Jilin University Ranks 45th Nationwide and 1st in Jilin in 2020 China Hospital Ranking, Fudan University Edition
The First Hospital of Jilin University is among the top 30 hospitals in China according to the Science and Technology Evaluation Metrics (STEM)